The Y2Q countdown is on.  Quantum computers are gaining ground and will soon pose an existential threat to all standard encryption methods. Unlike the Y2K "millennium bug," there is no timetable or due date for Y2Q. All we know is, it's coming much faster than anyone predicted. That's why bad actors around the world are already stealing and storing secrets, just waiting to for the quantum computing capacity to decrypt them. It's why governments are mandating action, and consulting providers are vying for position. Because – like Y2K – Y2Q will affect every organization on the planet. Systematic preparation is urgent, and non-optional.
By beginning the transition towards quantum security today, enterprises can minimize the monetary and reputational risks associated with rampant data and security breaches. Quantropi is standing ready to protect the encryption you, your customers, and your stakeholders count on – thanks to the power and permanence of our flagship QiSpace™ SaaS platform.
Uniquely capable of all three prerequisites for end-to-end quantum security – Trust, Uncertainty, and Entropy – only QiSpace™  provides "TrUE" quantum security for your enterprise to thrive… before, during, and after Y2Q. Migrating to QiSpace™ will ensure the continued growth and satisfaction of your valued customer relationships – so you can be confident in staying true to your business and brand promise. And keep doing what you do best.
We all believe in a future where Trust can be minted, and Truth can prevail. Let's make it TrUE, with QiSpace™.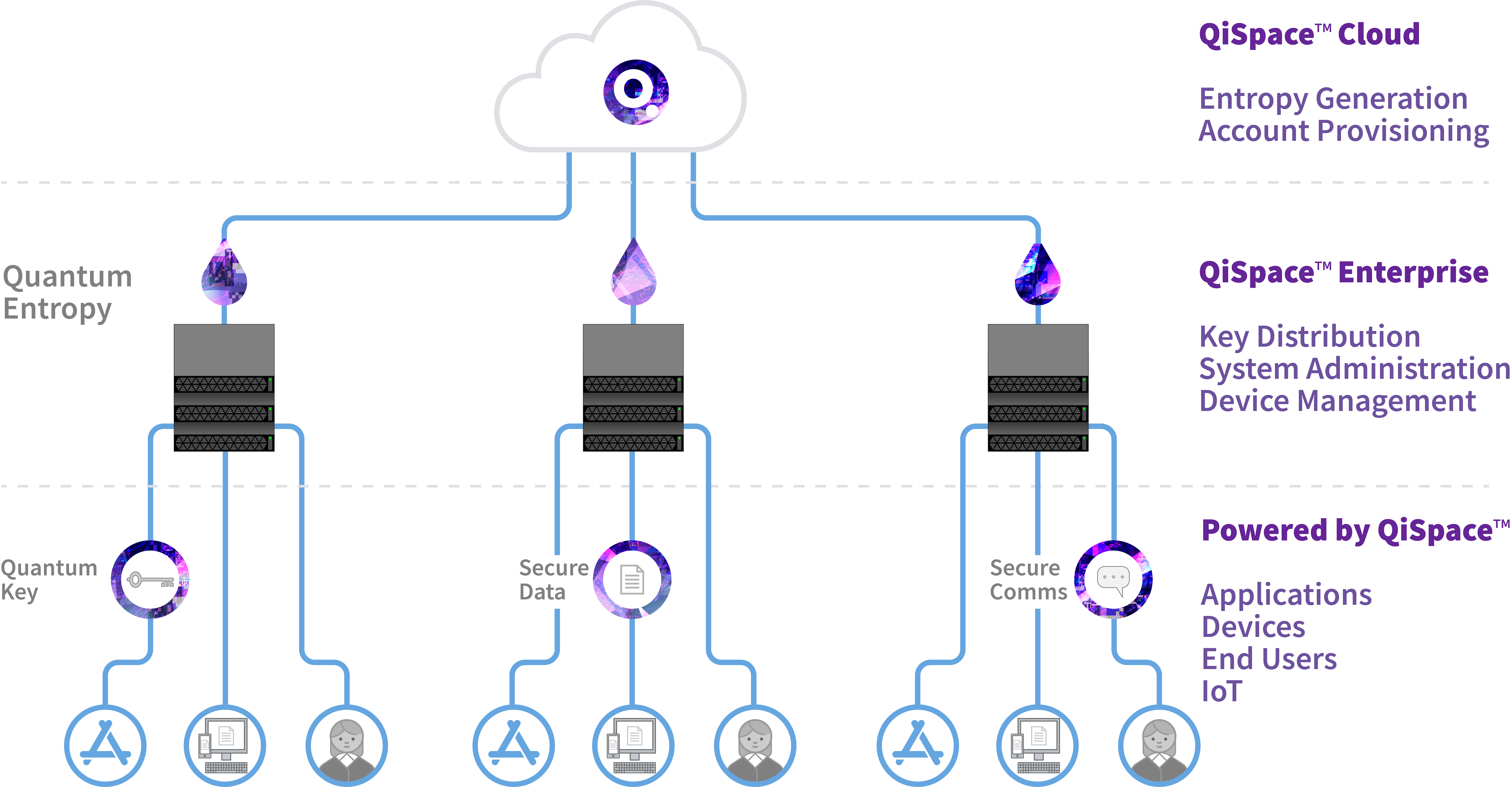 QiSpace™ is a SaaS platform that provides administrators, product managers and application developers with TrUE quantum-secure cryptographic functions to protect data, networks, and systems – via three distinct product families: MASQ™, QEEP™, and SEQUR™.
MASQ™ is the Trust offering in Quantropi's TrUE line of cryptographic solutions providing quantum-secure asymmetric encryption, also known as post-quantum cryptography (PQC). MASQ™ can be used for Key Exchange, Digital Signature and Zero Knowledge Proof. It supports NIST PQC finalists, as well as Quantropi's novel PQC, which offers significantly smaller digital signature sizes by comparison.
QEEP™ is the Uncertainty offering in Quantropi's TrUE line of cryptographic solutions, providing quantum-secure symmetric encryption that's up to 18 times faster than AES-256, suitable for enterprise and IoT deployments.
SEQUR™ is the Entropy offering in Quantropi's TrUE line of cryptographic solutions. This product family provides quantum random number generation and quantum-secure distribution to enable the full security potential of current cryptographic algorithms protecting systems and networks.
When it comes to Y2Q preparedness, only QiSpace™ offers TrUE quantum security without the need for new and expensive hardware or infrastructure. And only QiSpace™ has the crypto agility to support a range of available PQC standards, in addition to Quantropi's proprietary algorithm. This is about readying your organization to deliver on its business promise, whatever's next. That's mission-critical.
With Quantropi, QiSpace™ and TrUE… Bring It On.