Hosted by The Quantum Insider and featuring industry experts Brian Lenahan (Founder – The Quantum Strategy Institute) and Michael Redding (CTO Quantropi), tune in to this recent Webinar Preparing Enterprises for Y2Q and the Quantum Threat to Cryptography.
The exclusive one-hour event was held on November 2022 and featured a full slate of presentations and live discussions that provided crucial insights for CIOs, CTOs, CISOs, and cybersecurity professionals on how to prepare for that moment when quantum computers break today's most sophisticated encryption algorithms — the moment cybersecurity experts have designated Y2Q.
The Webinar agenda included:
State of the quantum industry, enterprise use cases and practical applications
Preparing networks, products, systems, processes, and employees for the Quantum Threat
Post Quantum Cryptography and the latest from NIST
Quantropi QiSpace™ for "TrUE" quantum security
We also had a live, moderated Q&A period to address audience questions and also held a poll, the results of which can be seen here.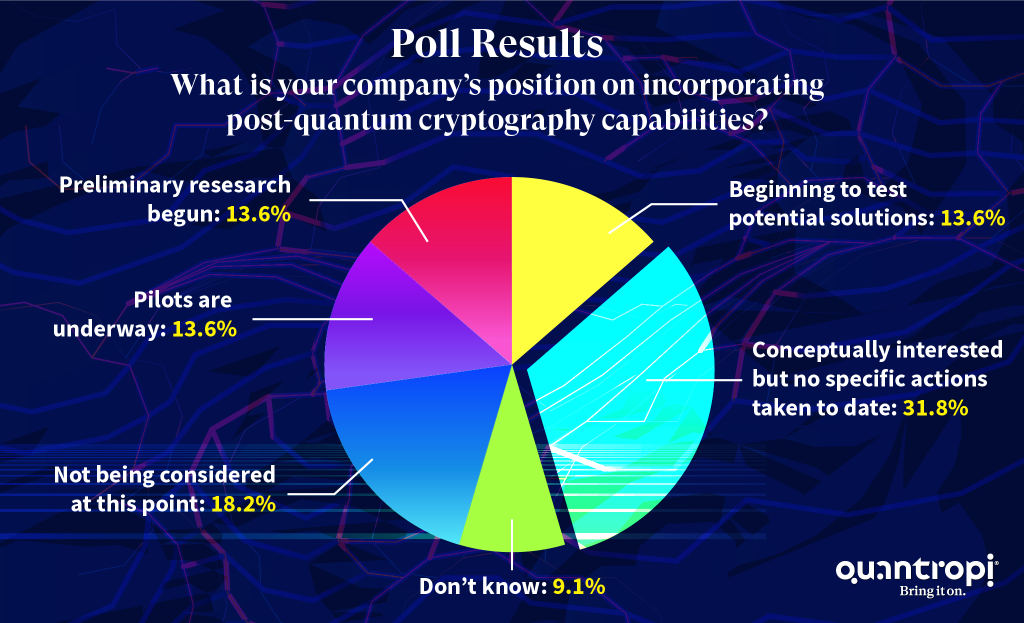 As you can see above, the majority of participants (31.8%) are conceptually interested in incorporating post-quantum cryptography into their organization but have taken no specific actions to date.
Our QiSpace™ platform and TrUE Quantum-Secure cryptography enable companies to upgrade their defences to protect against today's cyber threats and tomorrow's Y2Q Quantum Threats. Get access to quantum-secure, crypto-agile asymmetric encryption for key encapsulation and digital signatures now. Submit your QiSpace™ trial request here to get started!
You can also sign-up for our Q-Review Newsletter for Quantum & Cybersecurity News That's Fit to Decrypt!